Field Services
The Sherbrooke Tech & Service team of highly qualified, OEM trained, supervisors, technicians, millwrights, machinists and welders are available for:
Equipment and process inspections
- full report including recommendations for immediate
repairs and future shutdowns
Repairs and inspection of equipment
Equipment Installation and relocation
Annual Shutdown services
Troubleshooting
Laser alignment
Thickness testing
Ultrasonic leak detection
Welding
On-site machining

Some of the equipment we work on:
Barking Drums, Washers,
C.B. filters, Repulpers,
Vats, Disc Filters,
Save-alls, Screens,
Pumps, Nozzles,
Circulators, Agitators,
Mixers, Pulpers,
Headbox, Paper machines,
Dryer cans, Syphons,
Turbulator bars, Syphons,
Winders and more...
Some of the jobs we do:
Disc sector rebagging and repair
-on site or in-house

Headbox repair of interior surfaces
-welding, replacing cladding and polishing

Barking drum repairs and tire / trunnion
-regrind, gear reversal

Holey rolls journal rework and polishing

Complete erection services for GL&V supplied products

Laser alignment (Optalign alignment system)
-shaft to shaft, motor, gearbox, couplings

Turbulator bars

Winder mechanical maintenance

and more...
Our supervisors are also available to supervise
mill-supplied personnel.
At your service:
Please send all questions or inquiries
via e-mail
or call (819)846-5121

Emergency or breakdown service:
24 hours a day / 365 days call (819)846-5121
Suction pickup addition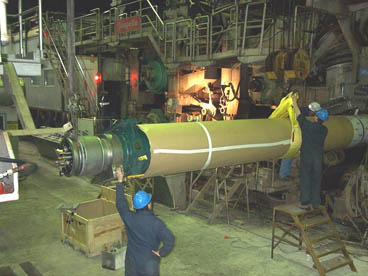 Deckle Ring machining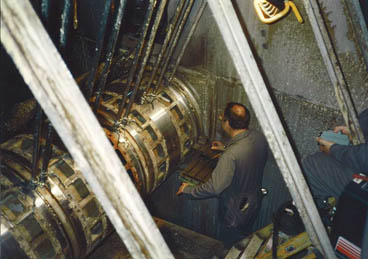 GL&V Pulper installation
Dry-dek installation